Stockholm is one of the richest cities of Europe:  daily,  4 300 678 of people walk into Stockholm streets hurriedly towards their work, sometimes ignoring the beautiful and rich buildings that surround them, such as the Royal Palace, Gamla Stan and Drottningholm Palace. What you may not know is that a simple and casual transport, such as the metro, can be an example unique of art, here, in the capital of Sweden.
As a matter of fact, the Stockholm Metro is one gigantic art gallery. More than 90 of the 110 stations feature artworks created by some 150 artists.
Called Tunnelbala, it has 100 stations, which 47 of them are in the underground. Open since 1950,some of these subway stations are cut into the rock.
For the price of a Stockholm Metro ticket you can see sculptures, mosaics, paintings, art installations, inscriptions and reliefs from the 1950s through to the 2000s at most Stockholm Metro  stations.
At T-centralen station, you'll discover the 1950s tiling and reliefs on the walls, while at the Arsenalsgatan, exit of Kungsträdgården station (blue line), you'll see an archaeological dig consisting of ancient columns and details.
Solna Centrum station (blue line) stands out for its cavernous, bright red ceiling that seems to 'weigh down' on the platform. Meanwhile the walls of the station depict a spruce forest that is one kilometre long.
For the price of a valid metro ticket you can join a guided tour of four or five stations with a Metro expert! If you're short of time, buy a ticket (valid for one hour from time of stamping) at T-Centralen and take the blue line to see the art at Rådhuset and Fridhemsplan stations.
As well as being a brilliant art exhibition  the Stockholm Metro is a great way of getting around Stockholm and its suburbs. Its unique characteristics made it considered one of the more beautiful metros in the world, as you can comprove in the following images.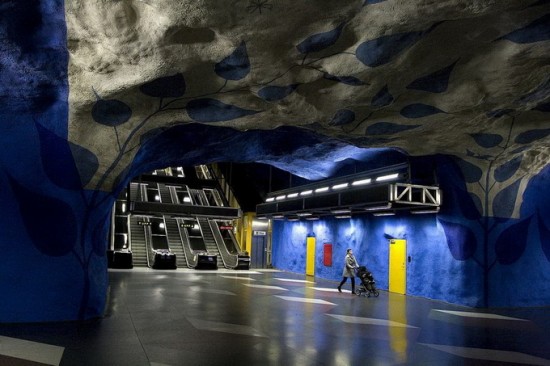 Many of the 1950s stations were designed by Peter Celsing. He was the chief architect of the Stockholm Tramways, Stockholm's Sparvagar, from 1948 to 1952 but is probably better known as the architect behind Kulturhuset, Riksbanken and Filmhuset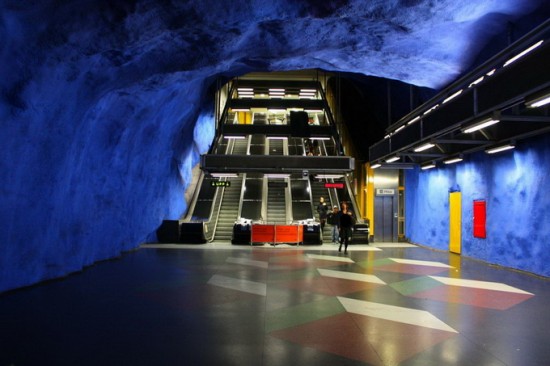 Emerge in this blue atmosphere of a Stockholm's metro station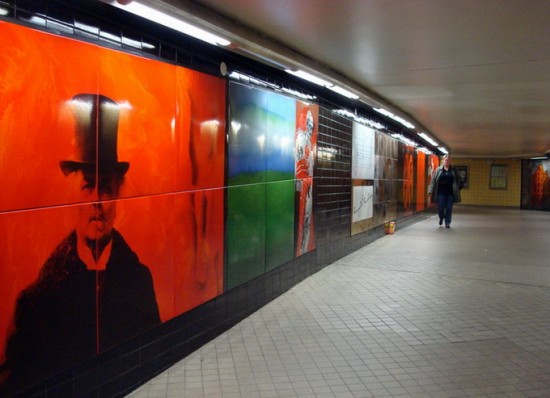 Art in the wall: while you're walking, you're surprised with various images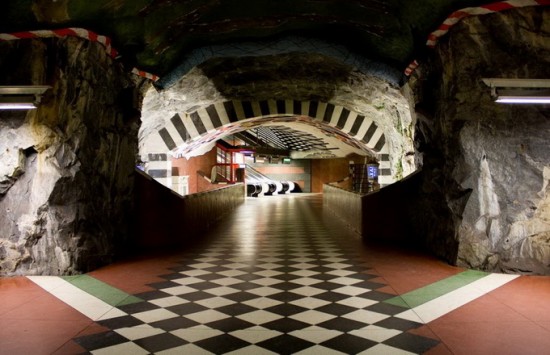 At  exit of Kungsträdgården station (blue line), you'll see an archaeological dig consisting of ancient columns and details
 At  exit of Kungsträdgården station (blue line)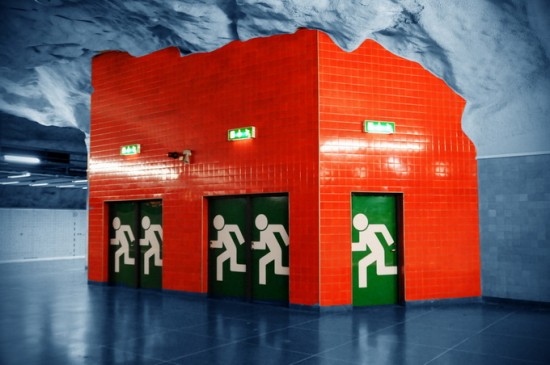 Colourful art is spread all over metro stations
 Most of the 1960s stations were built below ground, with only a few above ground. 1960s stations that incorporated art from day one include Ostermalmstorg, Mariatorget, Hornstull and Malarhojden. Stations that gained art at a later date, but whose architecture is typical of the 1960s, include Zinkensdamm and Aspudden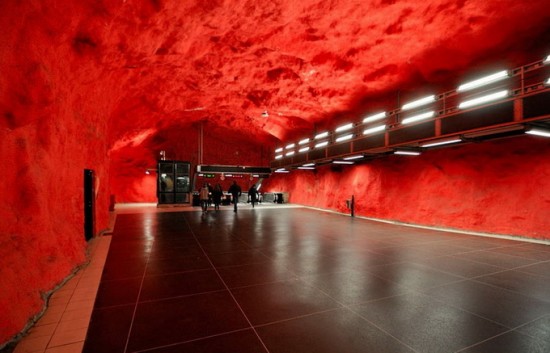 In many cases this is art created by artists who use techniques that would not survive long-term in the tough environment of the Metro – graphics, drawings, paintings and textiles. 
 The modernity of escalators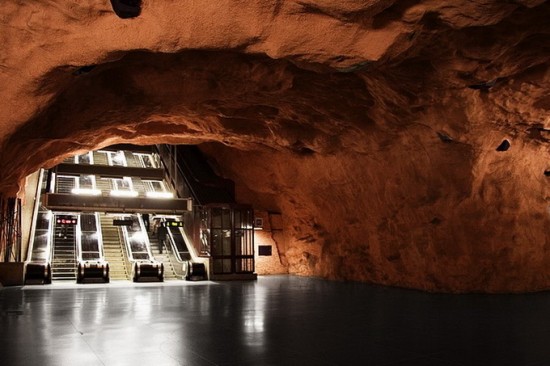 In six of the stations the temporary art is replaced 1 – 4 times a year